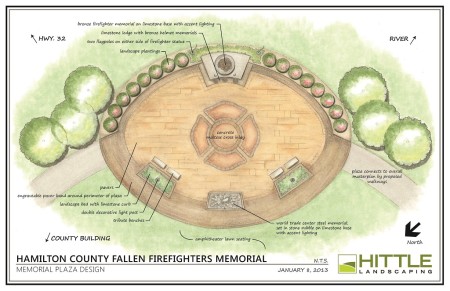 Just feet from where one of Hamilton County's firefighters lost his life will be a terraced memorial that honors the lives of those who have perished in the line of duty. The Hamilton County Fallen Firefighters Memorial also pays tribute to those who continue to put their lives on the line so selflessly for others. The collective fire departments in Hamilton County, Indiana are working together to raise funds for the memorial at the Hamilton County Judicial Center in historic downtown Noblesville.
The park-like setting of the memorial is designed by Hittle Landscaping and includes two key items: a piece of metal beam from the World Trade Center in New York City and a sculpture of a grieving firefighter by Arizona sculptor Nicholas Wilson of studio de tubac. Landscaping and tribute benches engraved with the names of the fallen will allow visitors to stop for quiet reflection. The setting, overlooking the White River and on land donated by Hamilton County as its portion of the Noblesville River Walk, is an accessible and appropriate spot for the memorial.
Hamilton County elected officials have cleared the way for the memorial's placement on the Judicial Center campus, the design has been developed and approved, and all that's left is to secure funding to begin work on the creation and installation.