About
About the World Trade Center Steel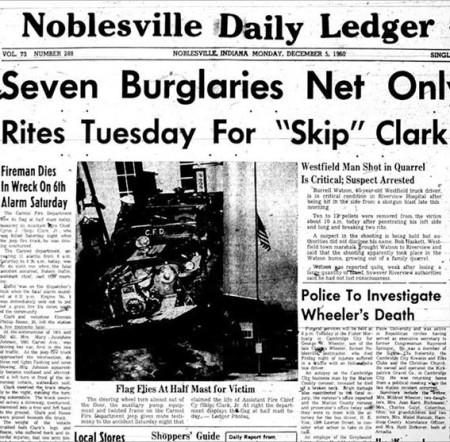 In January of 2010 the Hamilton County Fallen Firefighter Memorial committee petitioned the Port Authority of New York and New Jersey requesting an artifact salvaged from the World Trade Center after September 11, 2001.
On February 9, 2011 our committee was granted ownership of a single steel beam from the WTC tower, measuring approximately 4 feet long. The beam is most likely a floor joist from one of the first ten floors of one of the towers. It is impossible to know which tower it came from. It is the mission of the memorial committee to incorporate this artifact into the memorial's design, which is yet to be finalized. Along with Indianapolis' and Lebanon's artifacts, our beam was picked up and transported from JFK Hangar 18 to Indiana on a tractor trailer draped with American flags. On Saturday, April 9, 2011 the beams were escorted by the Indiana State Police and approximately 15,000 motorcycles from the Richmond, Indiana to downtown Indianapolis. Upon arrival in Indianapolis, there was a ceremony at the Indiana War Memorial to welcome these artifacts from the WTC which included a description of the planned "Project 9-11 Indy".
After arriving in Hamilton County, our beam was mounted on a custom built trailer so that it can be transported and displayed at community events across the county, in an effort to bring the artifact to the people before being permanently placed in the memorial.
It is the desire of the Hamilton County Fallen Firefighter Memorial committee to incorporate the artifact into a memorial honoring firefighters who have lost their lives in the line of duty in Hamilton County, Indiana. By incorporating the beam into the memorial we not only honor firefighters in Hamilton County, but honor all those, firefighters and civilians, who lost their lives on September 11, 2001 at the World Trade Center, the Pentagon and in Shanksville, Pennsylvania.

Byron J. Galbreath
Noblesville Firefighter Byron J. Galbreath was electrocuted and died from his injuries while working at a fire in a junk yard at 6th & Preston Street in Noblesville.

Cyrus Clark
Carmel Assistant Fire Chief Cyrus Clark died from injuries suffered in an apparatus accident. While responding with another firefighter aboard the apparatus, a civilian driver pulled their vehicle into the path of the responding fire apparatus. Chief Clark swerved and avoided contact with the vehicle. However, he struck a tree and both CFD members were ejected and the apparatus came to rest on top of them (Location believed to be 111th Street and Westfield Blvd).

Raymond E. Moulder
Fishers Assistant Fire Chief Raymond E. Moulder died from injuries he suffered from a building collapse. Chief Moulder was working at the scene of a multi-alarm fire that was consuming several building in the down town business district of Noblesville. The location of this incident was 6th & Conner Street, The building, Goeke automobile dealership, suddenly collapsed trapping Chief Moulder.